Standard and Custom Designs available
Reliable solution exceeding industry standards
Modular Chamber Construction
over 10,000 successful chamber installations
mechanical absorber attachments
High Perfoming EMC Test Environment
AP Americas - Global solution provider in engineering and construction of EMC Chambers.
Preventing EMI Interference
Examine electromagnetic interaction between electrical devices and their environment in a neutral, stable, and repeatable setting.
Prevent unwanted electromagnetic signals and reflections during testing.
Measure radiated emissions and immunity through testing for a wide range of commercial EMC testing applications.
RF Shielding ensures electromagnetic radiation is unable to penetrate or escape the room.
RF Absorption prevents radiation reflection during testing, enabling the creation of comparable and consistent testing conditions.
See Absorber for detailed data sheets.
1. EMC Chamber Highlights
Manufacturer of a 100dB attenuation door solution up to 40 GHz with a single contact spring.
2. EMC Chamber Highlights
Manufacture and supply mechanically attached hybrid EMC absorbers. - Coverage from 9kHz to 100 GHz
3. EMC Chamber Highlights
Proven ferrite design for a guaranteed performance - Mechanical attachment and individually fastened tiles - Running bond pattern installation (maximizing performance and eliminating gaps)- Maximum performance at 30 MHz- Optimal impedance match with truncated absorber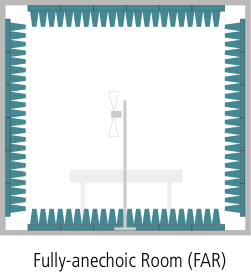 Reflection Free
More compact & cost-effective
Reduced testing duration

Test subject at a fixed height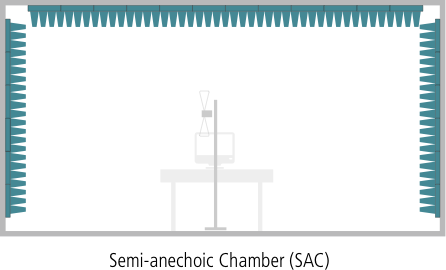 Ground Plane Reflection
For rigorous testing standards requiring full compliance
Best for heavy test objects weighing more than 200 kg. 
Flexibility in positioning of test subject
Industry standards
Commercial, Automotive, Military, Residential, Aeronautic



Standard Chambers
Test chambers for measurement testing at 1m, 3m, 5m, and 10m requirements.


Pre-Compliant &
Compliant solutions
Standard chamber configurations available for R&D and product certification.

Semi-Anechoic Chamber or Fully-Anechoic Chamber
For tests with a reflective floor plate or in completely reflection-free chambers.

Aerospace & Defense

Consumer Electronics

Telecommunications

Automotive
Positioning Equipment & EMC Test Accessories
Quality user-friendly positioning equipment
AP Americas offers premium peripheral equipment that allows for precise testing.
Steel integrated turntables flush with ground plane

EMC Compliant Test Tables

Non-conductive surface mounted turntables
Highest quality positioning equipment
Electric or pneumatic antenna masts
Sophisticated positioning equipment with multi-device controlling capability
Specifically for your application
Do you need special RF low-emission accessories for your application? Contact us for more information.
Positioning unit for wireless devices